This is one of my favorite Filipino dishes that my Brit hb also learned to love. In our national language this dish is called Sinigang na Buto-buto. In my mom's traditional way of cooking it, she would use the unripe tamarind that she would boil and squeeze the juice out of as the base of the sour soup. Until now she still uses the same traditional way even if instant tamarind soup powder has already been invented. But since living in US I never tried using the good old tamarind but rather I use tamarind soup powder in different flavor - regular, spicy and with taro.
PORK SPARERIBS IN TAMARIND SOUP
INGREDIENTS
2 lbs pork spareribs
4 pieces taro root, peeled and cubed
1 medium piece Daikon , julienned
1/2 lb green beans
2 cups spinach

1 onion
, sliced
1 tomato, sliced
8 cups water
1 pouch Tamarind Soup Mix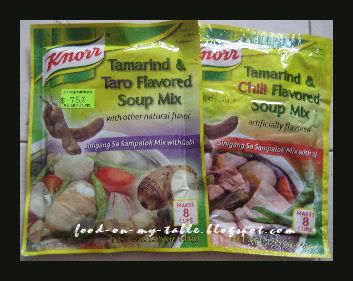 DIRECTIONS:
1. Pour 8 cups of water into a pot; add meat, onion and tomato. Bring to a boil and then simmer till the meat is tender. Dissolve the tamarind soup powder in a bowl and then pour into the meat mixture.
2. Add the vegetables and continue cooking until tender.
3. Serve with steamed white rice.